The Electronics and Communication Engineering department have well equipped labs and qualified and dedicated staff members.
Sh. Ashok Kumar Chowdhary, Lecturer acts as Officer in Charge for the department and looks all the affairs of the department along with departmental staff members.
Department of Electronics & Comm Engg
VISION – Electronics and Comm Engg department will strive to develop technically competent diploma engineers to meet the challenges and needs of the industry and society
MISSION –
M1: Cultivating effective and innovative learning by providing latest knowledge in collaboration with industries
M2: Inculcate social and ethical values
M3: Nurture interpersonal and social entrepreneural skills so as to develop leadership qualities in Electronics industry's diverse culture
M4: To provide industry institute interaction through training, expert lectures and industrial visits
PROGRAM EDUCATIONAL OBJECTIVES (PEO) –
PEO 1:To develop competent technicians for maintenance, supervisory and quality control in electronics and communication industry
PEO 2: To develop professional and ethical attitude alongwith effective communication skill so as to use their engineering ability and technical skill to improve the quality of life in society
PEO 3: To provide students with latest technology and development in electronics and communication field to become successful entrepreneurs
PEO 4: To develop positive attitude towards lifelong learning and succeed in industry, higher education, research and entrepreneurship
This department offers three years diploma in Electronics and Comm. Engg. awarded by Haryana State Board of Technical Education, Panchkula. This department has following fully equipped laboratories with state of the art equipments:
Electronics Devices and Circuits
Power Electronics
Digital Electronics
Consumer Electronics
Microprocessors
Communication Lab
Electronics Workshop
All laboratories are equipped with advanced equipments. Robotics Lab is equipped with SCORA ER-14 (with Robot vision). Electronics Workshop has facilities sufficient to fabricate and assemble PCBs.
PEO MISSION MATRIX ECE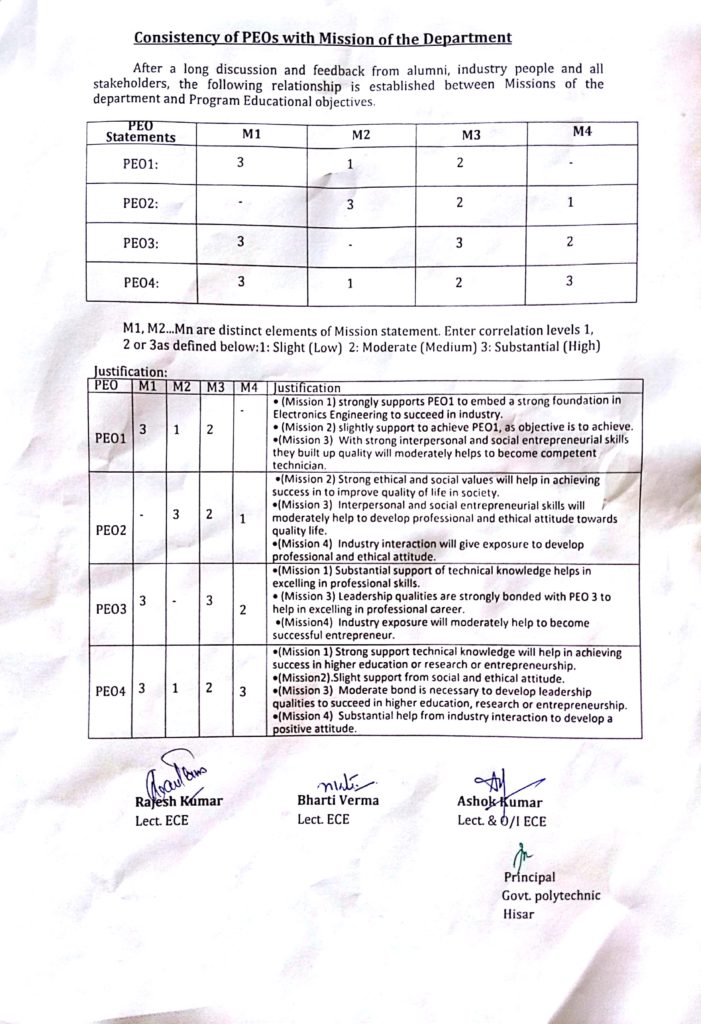 | | | | |
| --- | --- | --- | --- |
| Sr. No. | Name of Faculty | Designation | Qualification |
| 1. | Er. Ashok Chaudhary | Lecturer | B.Tech. (O/I) |
| 2. | Er. Suresh Kumar | Lecturer | B.Tech. |
| 3. | Er. Bharti | Lecturer | B.E. |
| 4. | Er. Rajesh Kumar | Lecturer | M.Tech. |
| 5. | Er. Arshad Jamal | Lecturer | B.Tech,M.Tech. |
| 6. | Er. Ajay Kumar | Lecturer (Guest Faculty) | B.Tech. |