The department of Fashion Design offers a three year diploma course based on semester system established in 2008 . The department is well equipped with labs and dedicated staff members.
To achieve this end the department of Fashion Design has introduced courses in AUTO CAD and Fashion Related Specialized Software. After completing these courses the students acquires the skills & knowledge to be absorbed in computerized Textile Design department, Fashion industry (Garment Export House) or production department in Weaving, Printing & Knitting.
Department of Fashion Technology
Fashion designing diploma is a dynamic career opportunity in current scenario where the focus is more on generating employment and skill related knowledge in youth of our country. This diploma provides you with multiple career options like fashion merchandiser, fashion designer, fashion entrepreneur and many more. Students can add wings to their imagination and creativity and can accelerate their career not only through job but can have their own fashion boutiques. This is a course which can provide you with creatively fulfilling and financially rewarding career.
HOD of Fashion Design
Garima Ahlawat
| | | | | |
| --- | --- | --- | --- | --- |
| Sr. No. | Faculty Name | Photo | Designation | Qualification |
| 1 | Garima Ahlawat | | Lecturer | M.Tech |
| 2 | Nidhi Sharma | | Lecturer | M.Tech |
| 3 | Parul Gupta | | Guest Lecturer | M.B.A & B.Tech |
| 4 | Meenu | | Guest Lecturer | B.Tech, 3 Year Diploma(FD) |
| 5 | Rita Rani | | Guest Instructor | ITI, CTI & TTC |
| 6 | Bala Devi | | Guest Instructor | B.sc, 3 Year Diploma(FD) |
Sr. No.
Lab Name
Subject Taught in Lab
Incharge Name
No. of Students placed
(included backlog)
No. of Student placed
(included backlog)
Placement %
1
CAD Lab
CAD in Fashion Design & IT
Garima Ahlawat
6
9
100
2
Garment Construction Lab
Pattern Making & Garment Construction
Nidhi Sharma
10
15
65.22
3
Draping Lab
Draping
Parul Gupta
5
4
11.11
CAD Lab
This lab provides practical knowledge about designing department in computer aided design software. CAD software is used to increase the productivity of the design and improve the quality of design. CAD helps students to learn how computer-aided designs can be applied for garment designing, pattern, cutting, grading, lay planning, fabric designs & print designs etc.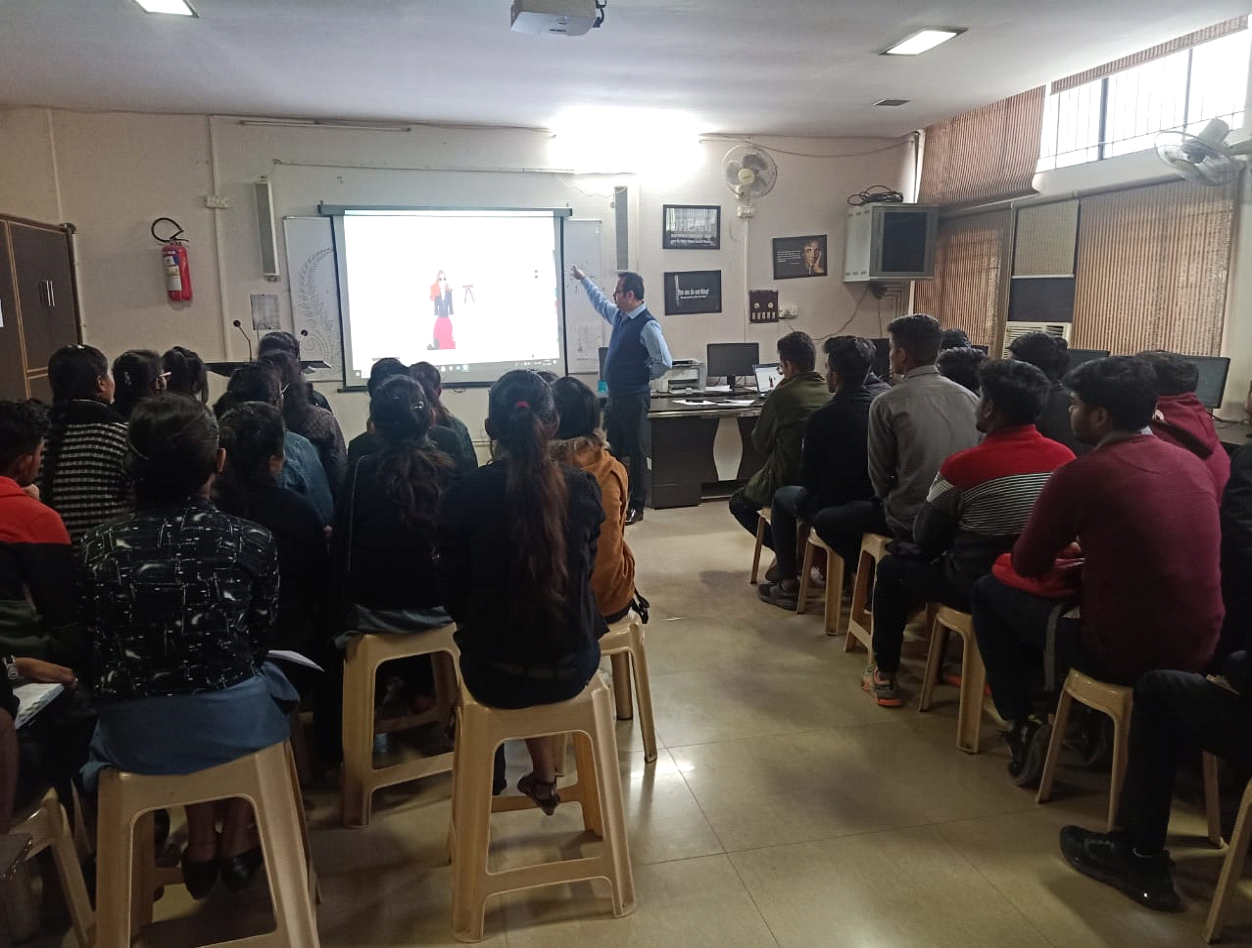 Draping Lab
Draping is the art of manipulating fabric directly on the dress form or mannequin. Draping lab is most important part of Fashion Design Department. With a facility of dress forms and mannequins, students explore their creativity in the designing of garment silhouettes.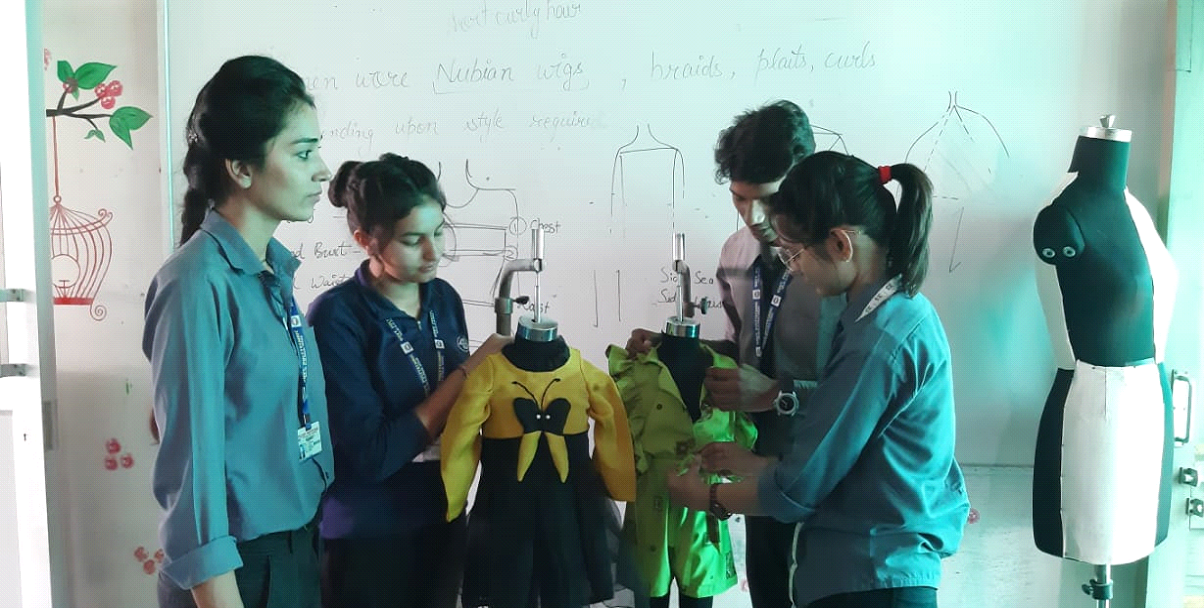 Garment Construction Lab
This lab provides practical knowledge about Pattern making, Grading, Garment production, Garment designing and Accessory designing etc.This lab contains Drafting table, Cutting table, Dummies, Single Needle Lock Stitch, Zigzag Machine and Overlock Stitching and Embroidery M achine It has seating capacity of 30 students at a time.

Classroom

Batch
Total No. of Students
No. of Students eligible for placement
No. of Students placed
(included backlog)
No. of Students placed
(included backlog)
Placement %
2019-2022
22
11
6
9
100
2018-2021
31
25
10
15
65.22
2017-2020
39
36
5
4
11.11
2016-2019
27
22
12
11
50
2015-2018
18
12
5
42
INDUSTRIAL PATRONS (Who have given job opportunities to our students)
| | |
| --- | --- |
| SR NO. | NAME OF COMPANY |
| 1 | DHRUV GLOBAL LTD. SECT-27 FARIDABAD |
| 2 | ALOK FASHION SECT-34 GURUGRAM |
| 3 | KHULLAR APPARELS PVT. GURUGRAM |
| 4 | ALOK FASHION SECT-34 GURUGRAM |
| 5 | PEARL GLOBAL,GURUGRAM |
| 6 | ESS & BEE INTERNATIONAL, GURUGRAM |
| 7 | RICHA GLOBAL,GURUGRAM |
| 8 | MECH TECH KNITFAB PVT. LTD., GURUGRAM |
| 9 | GLOBAL CONNECTIONS, GURUGRAM |
| 10 | MECH TECH KNITFAB PVT. LTD., GURUGRAM |
| 11 | LOOKS APPARELS, PVT. LTD. GURUGRAM |
| 12 | NORSPIN INTERNATIONAL PVT.LTD. GURUGRAM |
| 13 | AKRITI CREATIONS PVT. LTD. GURUGRAM |
| 14 | SAI MERCHANDISING, SEC-37, GURUGRAM |
| 15 | DHRUV GLOBAL LTD. SECT-27 FARIDABAD |
| 16 | DAVESH TEXTILES,JAIPUR |
| 17 | PEARL GLOBAL,GURUGRAM |
| 18 | Afflatus International,Sector 8,Manesar |
| 19 | Auric Merchandising Services,C-26,Sec-63,Noida |
| 20 | India Today Fashion,F-55,Malviya Nagar,Jaipur |