Finance Account and Auditing
The Diploma in Finance Account & Auditing was started in the year 2007 with intake of 60 Students in this course and we are pleased to submit that all eligible students got placement in various Financial Institutions and also some students got admission in various institute for Higher Studies.
The Curriculum of FAA (Finance Account & Audit) has been amended time to time according to the latest scenario of job market requirements and the students have full knowledge of GST & Computerized Accounting according to latest accounting package.
The corporate sector, CA Firms and Organized Retail sector prefer the Diploma holders in Finance Account & Auditing in comparison to Arts and Science Graduates. The Curriculum meant for this course aims at providing the new comers with latest Accounting knowledge, Accounting Software like Tally ERP 9, Business laws, GST, Marketing & Financial Institutions Moreover; the knowledge gained through this course provides a base for self employment and self reliance.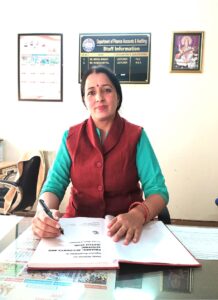 Message from the Desk of HOD-Finance, Accounts & Auditing
"The great aim of Education is not knowledge but action."
Herbert Speneer
The Diploma in Finance Account & Auditing was introduced keeping in view the Govt. Policies related to the FDI and Organized Retail Sector, E-commerce & E-billing, GST. This Diploma has the potential to cater the needs and requirements of these sectors. Since, it is still in its fledging stage, by seeing the job avenues, people have started taking interest and opting for it. The Students of Finance Account & Audit have full practical knowledge of GST as they are trained by the Experienced Professionals like CAs, Advocates & Senior Officers from Govt. & Public Sectors.
I take this opportunity to thank all the parents who have reposed their faith in our polytechnic. We assure to do our very best always.
Dr. Meera Siwach
HOD/Officer Incharge
Finance Accounts & Auditing