Mechanical Engineering Laboratories Details
| | | | |
| --- | --- | --- | --- |
| Sr. No. | Lab Names | Subject Taught in Lab | Incharge Name |
| 1. | Material Testing | S.O.M.,M.M | Jitender Sheoran |
| 2. | Auto Thermal | TH-I,TH-II,Automobile | Sanjay Kumar |
| 3. | Refrigeration and Air-conditioning | R.A.C. | Satinder |
| 4. | Hydrualic & Phnematic | H&P | Satinder |
| 5. | CNC | CNC | Raj Kumar/Vijender Singh |
| 6. | Inspection & Quality Control | AM,TOM,IQC | Vikas Modi |
| 7. | C.A.D. | CAD | Vijender Singh |
| 8. | Applied Mechanic Lab | AM | Vikas Modi |
Material Testing Lab
Material testing lab is well equipped with advanced material testing equipment and machines. In this lab, the mechanical characteristics of material are analyzed for correlation with actual working condition which helps the students to understand and quantify whether a specific material or treatment is suitable for a particular application .Students also get opportunity to implant their ideas through various application oriented microprojects.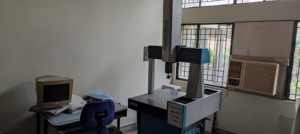 Inspection & Quality Control Lab (IQC)
IQC lab is well equipped with advanced testing equipment and machines like vernier caliper micrometer, combination set, co-ordinate measuring machine, slip gauge, surface roughness tester and microscope etc. With the help of these instruments students know how to get the precision measurement like length, diameter, roughness of surface and angular measurement. In this lab students also get the knowledge of controls charts like X bar , R, C, np Chart etc. This Lab has been formed to provide the knowledge of how to use the quality control tools which helps the students to check the quality of the products in quality department of industries.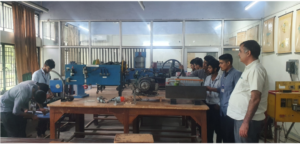 Auto Thermal Lab
This lab is well equipped with different parts and working models of different automobiles and various equipments used for imparting the experimental knowledge to the students of Mechanical engg. This lab provides lots of opportunity to the students to study and testing different types of IC engines and boilers performance .
RAC Lab
Refrigeration and Air conditioning lab is well equipped with refrigeration and air conditioning tools and equipments. In this lab, students are imparted training to identify and use of various refrigeration tools, parts of refrigerator and window air conditioner, various faults in refrigeration system and to find out coefficient of performance of refrigeration system.
Hydraulic and Pneumatic Lab
H&P Lab is well equipped with hydraulic and pneumatic equipments. In this lab students are imparted practical training about working of various hydraulic and pneumatic equipments used in industries and in power generation.
CNC Lab
Computer numerical control (CNC) lab is well equipped with advance manufacturing machine such as EDM, CNC Milling, CNC Lathe, VMC Milling, CNC master trainer. In this lab, students practice on CAD and CAM use computer-based methods for encoding geometrical data, it is possible for the processes of design and manufacture to be highly integrated.
CAD Lab
Computer-aided design (CAD) lab is well equipped with CAD-2022, Solidworks software and internet facility. CAD systems enable designers/students to view objects under a wide variety of representations and to test these objects by simulating real-world conditions.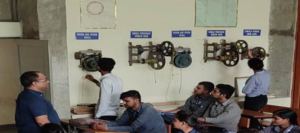 Applied Mechanic Lab
AM Lab is Well Equipped With Testing Equipment and machine like winch Crab , Worm and worm wheel , gear train, inclined plane apparatus, screw jack and simple wheel and axle etc. This lab is formed to learn applied mechanic subject with practical. This will make over student capable of handling Equipment with the new technology.